Don't you hate leading, when it becomes clear that nobody is following? It's the story of my life, so I don't take it personally anymore. I have tried for years to lead a conversation about restoring healthy forests. Yet I continually look around and nobody's there. Even with constant news showing the despair of people losing their homes to forest fires, most Americans remain disconnected. Maybe because it isn't their home?
I remember the 1965 Jimmy Stewart movie "Shenandoah," about a southern family trying to stay out of the Civil War, the patriarch stubbornly insisting, "It doesn't concern us." When his own son is taken prisoner, Stewart's character finally saddles up and joins the fight, with the solemn proclamation, "Now it concerns us."
This year Colorado lost some of its most iconic scenery, perhaps forever. Will the State take the management of these national forests and parks more seriously when some of its most cherished natural wonders go up in smoke? Or continue to ignore the inevitable result of poor management choices?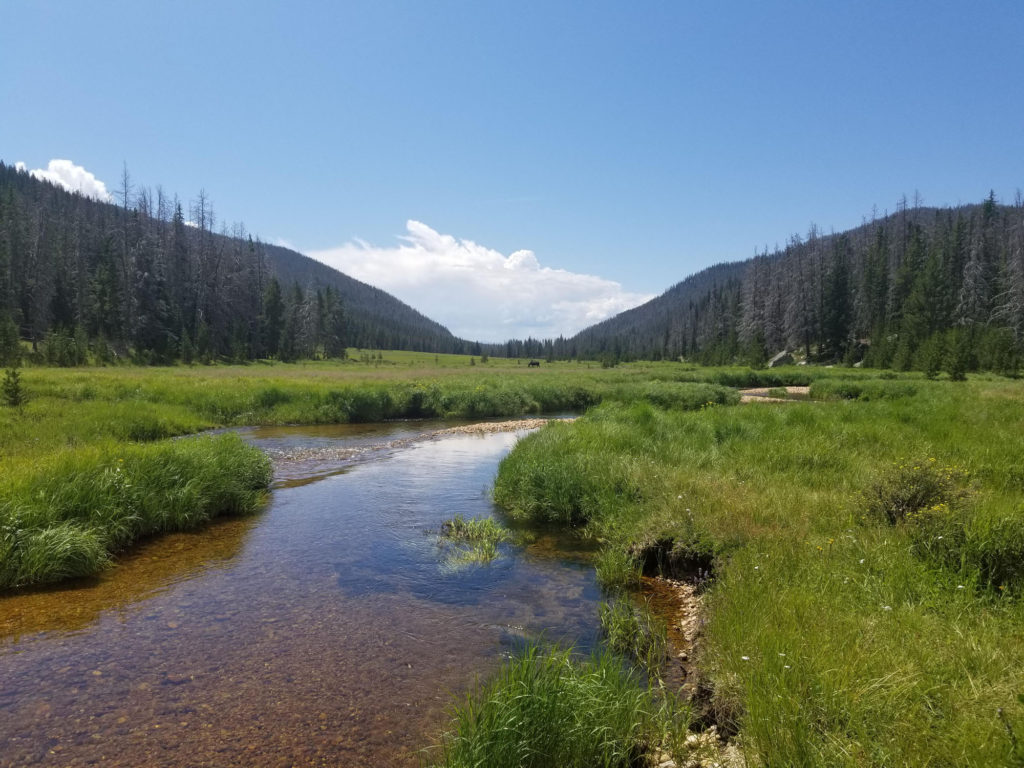 Consider these three photos that tell the story better than 50 blogs could. The first is among the most recognizable places in Rocky Mountain National Park: Big Meadows, miles of green open space with the bucolic Tonahutu Creek meandering through, surrounded by Green Mountain and Mt. Patterson. That view has been on postcards for a century, but is now gone forever, nothing but charred remains of a once-lush landscape.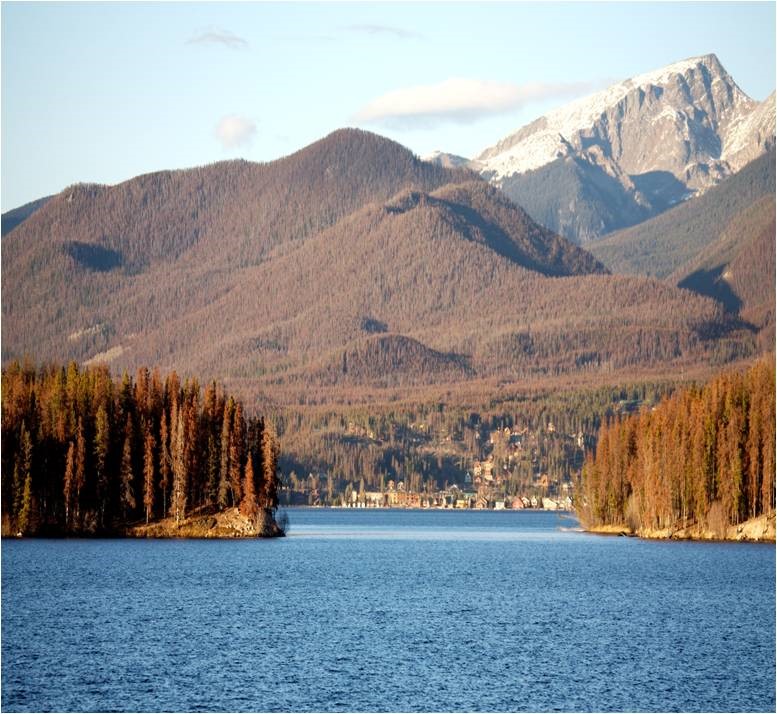 This second picture is one I used in a book on this subject seven years ago. It shows beautiful Grand Lake, headwaters of the Colorado River, a quiet and peaceful community with rustic lodges, angling shops, and fishing boats. But it also shows the surrounding mountains completely covered with dead trees, from the pine beetle outbreak that destroyed millions of acres of national forests. It was a graphic illustration of the tinderbox left by mismanagement, a stern warning of what might happen should those mountains ever catch fire. They finally did.
This third picture was taken in the town of Estes Park, 45 miles away on the opposite side of the National Park. It shows miles of fleeing cars evacuating the town, the entire region surrounded by bright orange skies and smoke so thick it turned day into night, forcing the cars to use headlights.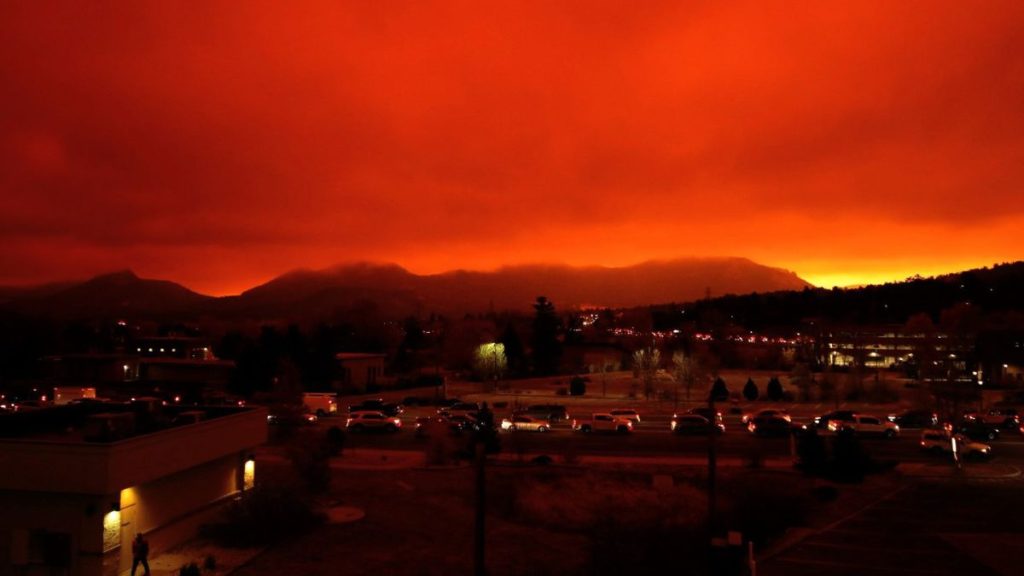 Foresters and others have been talking about the catastrophic wildfires that result from mismanagement for over 20 years. In 2002 the four largest fires in state history all burned simultaneously. The Hayman Fire destroyed 138,000 acres and threatened the City of Denver itself. It led to years of talk about the impact of such fires on precious water supplies.
The soils damaged by these calamitous fires, without vegetation, cause mud slides and damage water supplies, sometimes disastrously. Denver's water supply was endangered for years after a 1996 fire above Strontia Springs Reservoir. About 80 percent of the City's water supply passes through that reservoir, and a mudslide eliminated 3/5 of its water storage capacity. Restoration took over a decade and cost users more than $30 million. It was nothing compared to the threat at Grand Lake and Lake Granby.
Even the horrible 2002 records were shattered this year. The Pine Gulch Fire destroyed 140,000 acres from the Bookcliffs to Roan Creek. The Cameron Peak Fire burned 209,000 acres in three wilderness areas and Rocky Mountain National Park, from the Mummy Range down the headwaters of the Cache La Poudre River. Within weeks, another fire destroyed much of the center of the National Park, 193,800 acres at last count. It began on East Troublesome Creek near the Rabbit Ears Range, burned across Pony Park, through Grand Lake, across Trail Ridge Road, through the Kawuneeche Valley, the Porphyry Peaks, Big Meadows, over the Continental Divide, and down the Big Thompson River all the way to Estes Park. Colorado's most iconic National Park will never be the same. And water supplies for 30 million people in seven states could be affected, unless it stops raining and snowing on the mountains around Grand Lake.
During the last 20 years, over 100 million acres of national forests have burned, including the largest fires ever in California and Colorado, so far. And the Forest Service says it will take nearly 30 years to "treat" the 100 million acres still at risk.
It is past time for citizens and their elected officials to insist on active management solutions. This year, everyone who loves the majestic wonder of the Colorado Rockies must surely be saying, "Now it concerns us."
Greg Walcher is former director of the Colorado Department of Natural Resources, and a Western Slope resident.
SUPPORT COMPLETE
Our unofficial motto at Complete Colorado is "Always free, never fake, " but annoyingly enough, our reporters, columnists and staff all want to be paid in actual US dollars rather than our preferred currency of pats on the back and a muttered kind word. Fact is that there's an entire staff working every day to bring you the most timely and relevant political news (updated twice daily) from around the state on Complete's main page aggregator, as well as top-notch original reporting and commentary on Page Two.
CLICK HERE TO LADLE A LITTLE GRAVY ON THE CREW AT COMPLETE COLORADO. You'll be giving to the Independence Institute, the not-for-profit publisher of Complete Colorado, which makes your donation tax deductible. But rest assured that your giving will go specifically to the Complete Colorado news operation. Thanks for being a Complete Colorado reader, keep coming back.